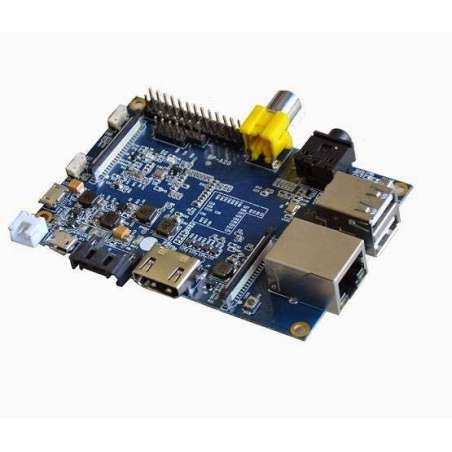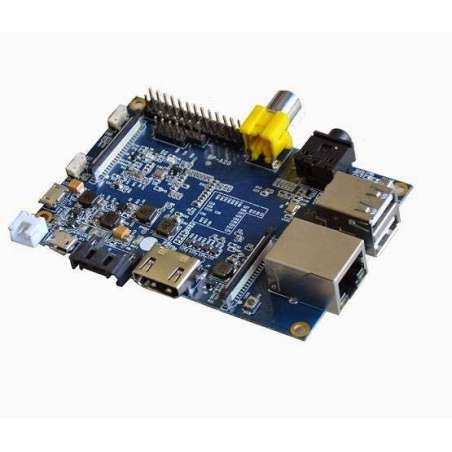  
Banana Pi Board (AllWinner A20 dual-core 1GHz SoC, 1GB DDR3 SDRAM)
Reference: BananaPi 111802 (BPI-M1)
Tax included
34.90 € tax excluded
Banana Pi Board  (AllWinner A20 dual-core 1GHz SoC, 1GB DDR3 SDRAM)
Secure shopping
Quick delivery
Help with buying
Banana Pi Board  (AllWinner A20 dual-core 1GHz SoC, 1GB DDR3 SDRAM)
It's an open-source single-board computer. It can run Android 4.4, Ubuntu, Debian, Rasberry Pi Image, as well as the Cubieboard Image. It uses the AllWinner A20 SoC, and has 1GB DDR3 SDRAM. Built with ARM Cortex-A7 Dual-core CPU and Mali400MP2 GPU, and open source software, Banana Pi can serve as a platform to make lots of applications for different purposes. 
Banana Pi has multiple extensible connectors for users to develop their own amazing projects and applications.   Most of common extension accessories Including LCD panel, touch screen, camera module, UART console and GPIO control pins are accessible from Banana Pi on-board connectors and headers. Banana Pi has 26-pins GPIO headers to extend the functions such as I2C, SPI, 5V and 3.3V output…etc.   There are also additional GPIO pins available for extension controls and daughter boards.  For instance, you can use those headers to connect an Arduino board for your projects.  Here could be the start point for your way of exciting applications. CON3 is a DIP-26 headers.  The header pin definitions of CON3 are shown as below. You can connect the headers for I2C, UART, SPI connections.  The 5V and 3.3 V power output are also available here.  Meanwhile, there are several pins free for GPIO pins for your specific usage.
Hardware specification

CPU

A20 ARM® Cortex™-A7 Dual-Core

GPU

ARM Mali400MP2 Complies with OpenGL ES 2.0/1.1

Memory (SDRAM)

1GB DDR3 (shared with GPU)

Onboard Storage

SD (Max. 64GB) / MMC card slot UP to 2T on SATA disk

Onboard Network

10/100/1000 Ethernet RJ45 (optional USB WIFI Dongle)

Camera Input

A CSI input connector allows for the connection of a designed camera module

Sound Input

Mic

Video Outputs

HDMI, CVBS , LVDS/RGB

Audio Output

3.5 mm Jack and HDMI

Power Source

5 volt via MicroUSB(DC In Only) and/or MicroUSB (OTG)

USB 2.0 Ports

2 (direct from Allwinner A20 chip)

Buttons

Reset button: Next to MicroUSB connector

Power button: Next to Reset button

UBoot button (optional): Behind HDMI connector

GPIO(2X13) pin

GPIO,UART,I2C bus,SPI bus with two chip selects,

CAN bus,ADC,PWM,+3.3v,+5v,ground.

LED

Power Status LED (Red)

Ethernet Status LED (Blue)

User Define LED (Green)

Remote

IR 

Supported OS

 

| | | | | |
| --- | --- | --- | --- | --- |
| | | | | |
| Android | Android 4.4 | Debian | Ubuntu | Raspberry Pi |

 

Supported Apps

Interface definition

Product size

92 mm × 60mm

Weight

48g
Banana Pi vs. Raspberry Pi
The main SoC chip is different.  
Raspberry Pi has Broadcom ARM11 core chip  while Banana Pi has Allwinner ARM Cortex-A7 dual cores.  The ARM architecture is the major differences. Banana Pi has more features enabling by ARM v7 architecture and still be compatible to run applications on ARMv6.
The physical dimension of  Banana Pi is wider than Raspberry.
            Be aware ! Current box of Raspberry Pi is not big enough to fit  Banana Pi.
Banana Pi has more hardware components.
For example, Banana Pi has on-board micphone,  internal SATA connector, IR receiver, OTG connector, power and reset switch.  These components are not available on Raspberry Pi.
The connectors of LCD LVDS interface and Camera interface are different.
Current Raspberry Pi camera module does NOT work with Banana Pi.   In addition, Banana Pi may be able to connect external LVDS display but not Raspberry Pi since it never enable its DSI connector.

In summary, Banana Pi currently has smaller community size, less documentation and it will need to tune OS distribution for Allwinner SoC and its add-on hardware components.
related products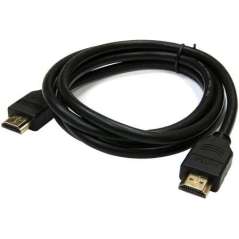 €2.19
tax included
2.19 € tax excluded
Price
1.8m HDMI 1.4, HIGH SPEED (HDMI A Male to A Male Cable) HDMI Type A-A (CC-HDMI4-6)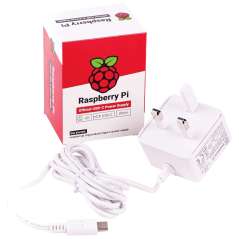 €8.95
tax included
8.95 € tax excluded
Price
Raspberry Pi 4 Model B Official PSU, USB-C, 5.1V, 3A, UK Plug, White (SC0212)
14 other products in the same category: