
RLX COMPONENTS s.r.o. , Electronic Components Distributor.

RLX COMPONENTS s.r.o. , Electronic Components Distributor.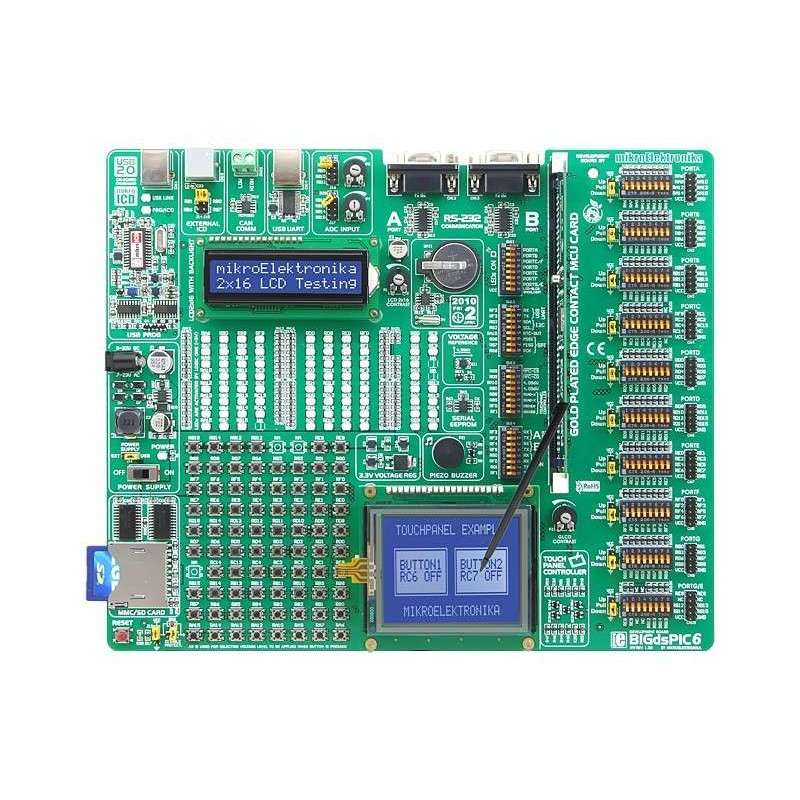 
BIGdsPIC6 supports a wide range of 64- and 80-pin dsPIC30F MCUs from Microchip. BIGdsPIC6 allows dsPIC30F microcontrollers to be interfaced with a wide range of peripheral devices. Very fast, on-board USB 2.0 dsPIC30F programmer with a simple driver installation.  Built-in Piezo buzzer enables the system to emit audio signals.  mikroICD is a hardware tool designed for testing and debugging programs on dsPIC30F MCUs.  BIGdsPIC6 includes a USB to serial UART interface FT232R that can be easily connected to a PC.
Supported Microcontrollers
The BIGdsPIC6 development system supports a wide range of devices including dsPIC30F microcontrollers. Newly released devices will be supported by a new version of dsPICFlash software that is updated regularly. Here is a list of microcontrollers supported by the BIGdsPIC6 development system:
dsPIC30F Microcontroller Family
dsPIC30F6012A-PT
dsPIC30F6011A-PT
dsPIC30F5011-PT
dsPIC30F5015-PT
dsPIC30F6015-PT
dsPIC30F6014A-PT
dsPIC30F6013A-PT
dsPIC30F5013-PT
dsPIC30F5016-PT
dsPIC30F6010A-PT
Package Details
The BIGdsPIC6 development system is packed in the protective box along with the relevant documentation and product CD. This box is very resistant to all kinds of damages and shocks. Note: Touch Screen, Pencil, LCD, Serial Cable and GLCD are not included in the price. The package contains:
BIGdsPIC6 development system.
BIGdsPIC6 80-pin TQFP MCU Card with dsPIC30F6014A Microcontroller.
USB cable.
CD with software, drivers and examples in C, BASIC and Pascal.
Printed documentation includes: BIGdsPIC6 Manual, BIGdsPIC6 Schematic Diagram, dsPICFlash with mikroICD Manual, mikroICD Manual and Quick Guide for Installing USB Drivers.
€33.48 with tax included
Price
27.90 € tax excluded
16 other products in the same category:
€22.98 with tax included
Price
19.15 € tax excluded
€124.80 with tax included
Price
104.00 € tax excluded
€23.64 with tax included
Price
19.70 € tax excluded
€33.48 with tax included
Price
27.90 € tax excluded
€22.98 with tax included
Price
19.15 € tax excluded
€11.61 with tax included
€15.48
Regular price
-25% off
Price
9.68 € tax excluded