
RLX COMPONENTS s.r.o. , Electronic Components Distributor.

RLX COMPONENTS s.r.o. , Electronic Components Distributor.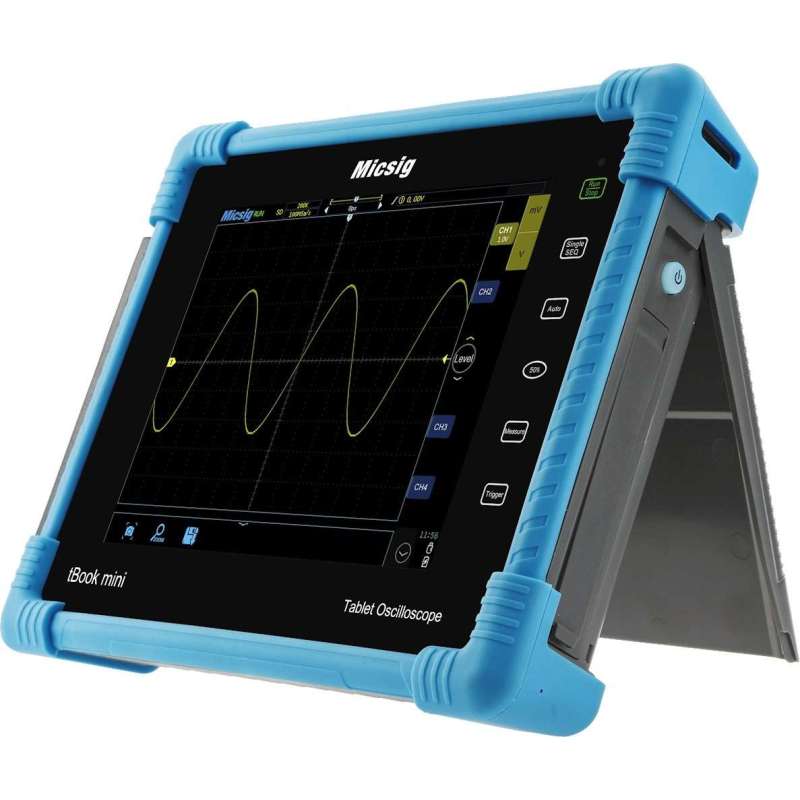 
TO1152 PLUS (Micsig) Handheld 2x150MHz Touch tablet DSO, 1GSa/s (Tablet oscilloscope)
Features 
Bandwidth  2x 150MHz
Sample rate 1GSa/S
Memory depth 28Mpts
Max capture rate 80,000 wfm/s
Interface : Wifi, LAN, HDMI,USB Host, USB Device, GND, DC Power,Trigger out
Screen 8'' inches TFT LCD 800x600 pixels display resolution,14x10 display range
Delivery including :
Bundle  UART, CAN, LIN, SPI and I2C decoding
2x Probes P130A (bandwidth 200 MHz)
Lithium Battery (7500 mAh) 
Power adapter
Belt 
Descrtiption
The Micsig tBook series is the world's first full touch digital oscilloscope. The Micsig TO1152 ensures you have the performance you need. It aims to meet all kinds of requirements of the largest digital oscilloscope market segment from the communications, semiconductor, computing, aerospace defense, instrumentation, research/education, industrial electronics, consumer electronics and automotive industries with excellent technology and industry leading specifications. This high performance standard not only ensures capturing real-time instantaneous signals, but also observes details of repeated signals. The Micsig TO1152 has a refresh rate of up to 250.000 wfms/s, enabling users to capture instantaneous signals, as well as abnormal signals more quickly. It also helps to enhance the waveform capturing ability and to expedite a circuit debug course. The particularly large TFT color touch displays are very easy to read. Thanks to an intelligent system for displaying or masking information, the largest possible area is always available for displaying signals. The signal curves, the FFT display, and other functions can be shown simultaneously on the display.
Customers who bought this product also bought:
€1,834.80 with tax included
Price
1529.00 € tax excluded
16 other products in the same category:
€778.80 with tax included
Price
649.00 € tax excluded
€694.80 with tax included
Price
579.00 € tax excluded
€604.80 with tax included
Price
504.00 € tax excluded
€2,734.80 with tax included
Price
2279.00 € tax excluded
€946.80 with tax included
Price
789.00 € tax excluded
€189.36 with tax included
Price
157.80 € tax excluded
€27.48 with tax included
Price
22.90 € tax excluded
€106.80 with tax included
Price
89.00 € tax excluded
€239.40 with tax included
Price
199.50 € tax excluded
€598.80 with tax included
Price
499.00 € tax excluded
€46.44 with tax included
Price
38.70 € tax excluded
€598.80 with tax included
Price
499.00 € tax excluded