
RLX COMPONENTS s.r.o. , Electronic Components Distributor.

RLX COMPONENTS s.r.o. , Electronic Components Distributor.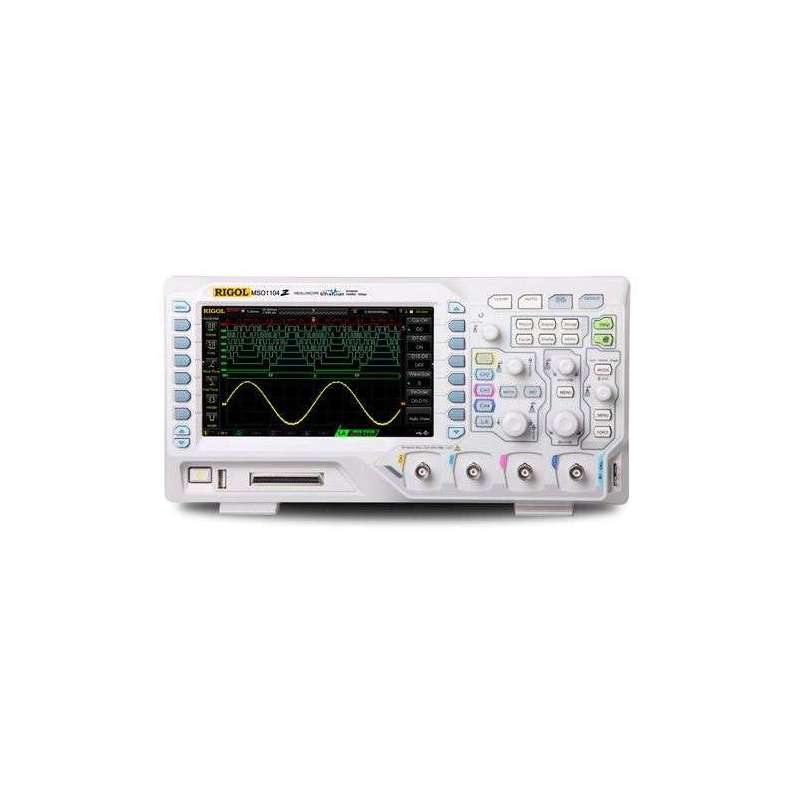 
DS1074Z Plus (Rigol) 4x70MHz, 1GSa/s, 12Mpts, 30.000wfms/s, 7'' WVGA 800x480, "UltraVision" technology
All options for free!
Options including :
SD-DS1000Z Serial Decoder
AT-DS1000Z Advanced Trigger
MEM-DS1000Z Memory Option
REC-DS1000Z Record-Module
Delivery including :
4 probes (bandwidth 150 MHz),
USB cable,
power adapter
manual
Plus means MSO-ready!  DS1000Z Plus units can later, on customer site, be upgraded to MSO1000Z(-S)
MSO Upgrade Kit  (Just order the MSO Upgrade Kit which contain the logic probe and a software licensekey to enalbe MSO functionality)
The DS1000Z Series is the new economic level Digital Oscilloscope from Rigol to meet the customer's applications with its innovative technology, industry leading specifications, powerful trigger functions and broad analysis capabilities. The DS1000Z 4 channel oscilloscopes come in 70 or 100 MHz versions with a 7 inch display and Rigol's UltraVision technology as well as a host of options. Add the optional analysis, decoding, deep memory, and integrated 2 channel waveform generator for a powerful 4 channel scope at an exceptional price. 
70MHz Bandwidth, 4 channels
1G Sa/s Real-time Sample Rate
12Mpts (Std.) and 24Mpts (Opt.) Memory Depth
Innovative "UltraVision" technology
Up to 30,000wfms/s Waveform Capture Rate
7 Inch WVGA (800x480), multiple intensity levels waveform display
DS1000Z Plus units can later, on customer site, be upgraded to MSO1000Z(-S)
| | |
| --- | --- |
| Model | DS1074Z |
| Bandwidth | 70 MHz |
| Analog Channels | 4 |
| Sample Rate | 1GSa/s (Single-channel), 500MSa/s(Dual-channel), 250MSa/s(Fulll-channel) |
| Max Memory Depth | 12Mpts(standard) ,24Mpts(option) |
| Max. Waveform Capture rate | Up to 30,000 wfms/s |
| Real Time waveform Record and Replay | Up to 60, 000 Frames(Opt.) |
| Std. Probes | RP2200 150MHz BW Passive Probe:4 sets |
| Built in 2 Ch Source | No |
| | |
| --- | --- |
| Model | DS1074Z |
| Bandwidth | 70 MHz |
| Analog Channels | 4 |
| Sample Rate | 1GSa/s (Single-channel), 500MSa/s(Dual-channel), 250MSa/s(Fulll-channel) |
| Max Memory Depth | 12Mpts(standard) ,24Mpts(option) |
| Max. Waveform Capture rate | Up to 30,000 wfms/s |
| Real Time waveform Record and Replay | Up to 60, 000 Frames(Opt.) |
| Std. Probes | RP2200 150MHz BW Passive Probe:4 sets |
| Built in 2 Ch Source | No |
Customers who bought this product also bought:
€2.86 with tax included
Price
2.38 € tax excluded
€239.04 with tax included
€298.80
Regular price
-20% off
Price
199.20 € tax excluded
€16.80 with tax included
Price
14.00 € tax excluded
16 other products in the same category:
€33,582.00 with tax included
Price
27985.00 € tax excluded
€3,670.80 with tax included
Price
3059.00 € tax excluded
€2,508.00 with tax included
Price
2090.00 € tax excluded
€1,138.80 with tax included
Price
949.00 € tax excluded
€3,238.80 with tax included
Price
2699.00 € tax excluded
€406.80 with tax included
Price
339.00 € tax excluded
€4,378.80 with tax included
Price
3649.00 € tax excluded
€718.80 with tax included
Price
599.00 € tax excluded
€1,678.80 with tax included
Price
1399.00 € tax excluded
€2,346.00 with tax included
Price
1955.00 € tax excluded
€958.80 with tax included
Price
799.00 € tax excluded
€742.80 with tax included
Price
619.00 € tax excluded
€838.80 with tax included
Price
699.00 € tax excluded
€538.80 with tax included
Price
449.00 € tax excluded
€10,788.00 with tax included
Price
8990.00 € tax excluded