
RLX COMPONENTS s.r.o. , Electronic Components Distributor.

RLX COMPONENTS s.r.o. , Electronic Components Distributor.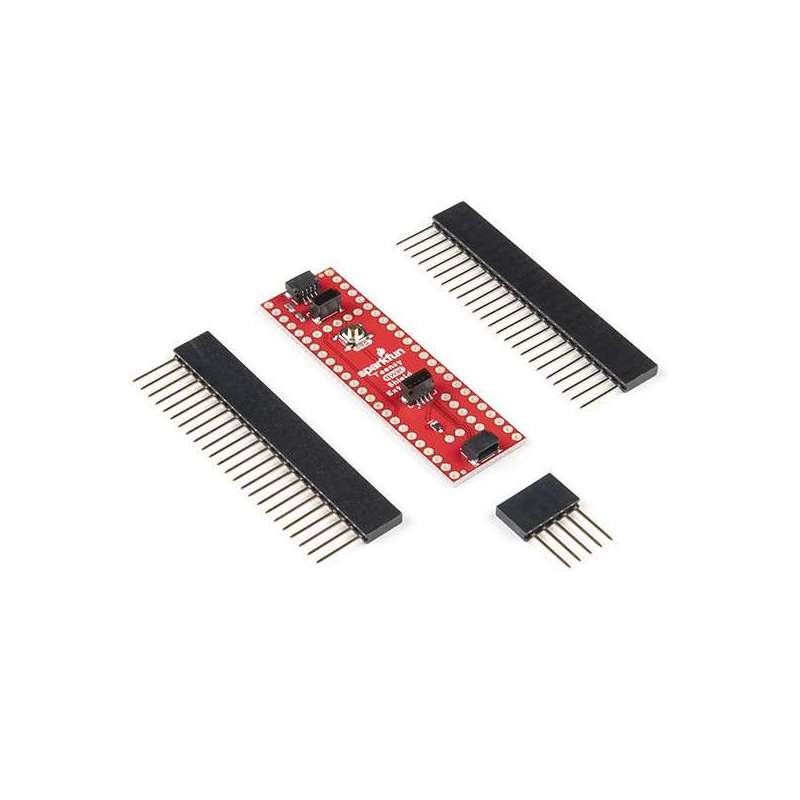 
SparkFun Qwiic Shield for Teensy - Extended (SF-DEV-17156)
The SparkFun Extended Qwiic Shield for Teensy provides you with a quick and easy way to enter into SparkFun's Qwiic ecosystem with your Teensy boards. This shield is sized to work with the footprint of Teensy 4.1, Teensy 3.6, and Teensy 3.5. This shield connects the I2C bus (GND, 3.3V, SDA, and SCL) on your Teensy to four SparkFun Qwiic connectors (two horizontally and two vertically mounted). The Qwiic ecosystem allows for easy daisy chaining so, as long as your devices are on different addresses, you can connect as many Qwiic devices as you'd like. We have also added a "PROG" button on this shield that is electrically parallel with the "PROG" button on the Teensy Boards so you can choose to use either the button on your Teensy or the button on the shield to put your Teensy into Programming mode. The Qwiic Shield for Teensy comes with two 24-pin and one 5-pin headers and will need to solder the headers to the shield and, if necessary, to your Teensy board. Take care to match the markings on the Qwiic Shield to the appropriate pins on your Teensy to avoid possibly damaging your boards.
Includes
SparkFun Qwiic Shield for Teensy - Extended
2x 24-pin headers
1x 5 pin header
Features
Teensy 4.1, 3.6, or 3.5 Footprint Compatible
4x Qwiic Connection Ports
"PROG" Button w/ satisfying tactile feedback
I

2

C Jumper
3.3V and GND Buses
Documents 
Customers who bought this product also bought:
€39.00 with tax included
Price
32.50 € tax excluded
€17.40 with tax included
Price
14.50 € tax excluded
16 other products in the same category:
€53.70 with tax included
Price
44.75 € tax excluded
€29.94 with tax included
Price
24.95 € tax excluded
€17.28 with tax included
Price
14.40 € tax excluded
€51.60 with tax included
Price
43.00 € tax excluded
€20.34 with tax included
Price
16.95 € tax excluded
€47.28 with tax included
Price
39.40 € tax excluded
€190.80 with tax included
Price
159.00 € tax excluded
€13.08 with tax included
Price
10.90 € tax excluded
€56.28 with tax included
Price
46.90 € tax excluded
€19.10 with tax included
€23.88
Regular price
-20% off
Price
15.92 € tax excluded