
RLX COMPONENTS s.r.o. , Electronic Components Distributor.

RLX COMPONENTS s.r.o. , Electronic Components Distributor.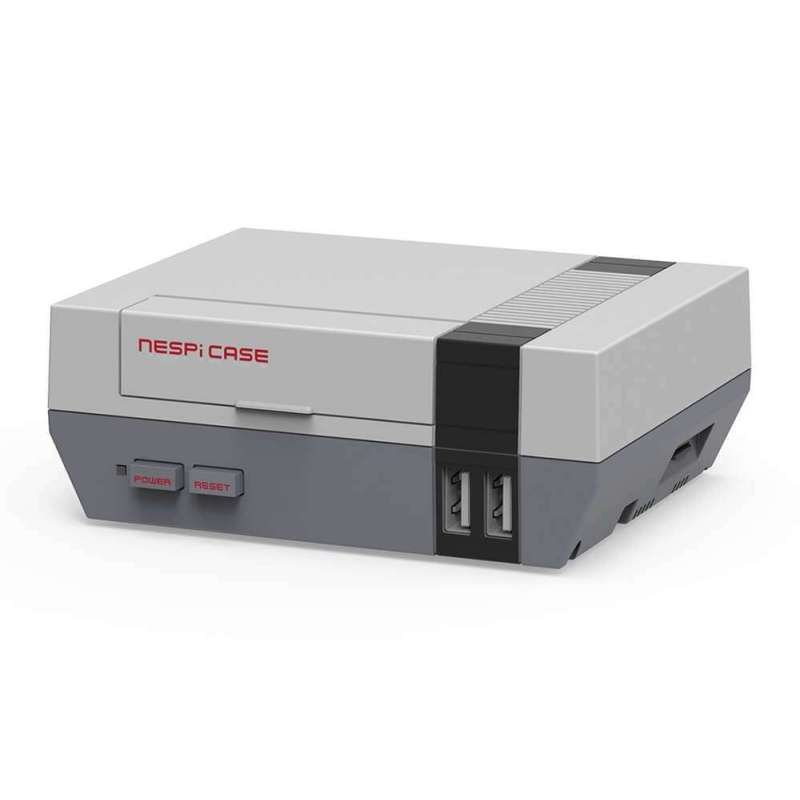 
Retroflag Nespi Case for Raspberry Pi 3/2/B+ (ER-DRA22839K)
Description
The design of Raspberry Pi case is classical NES style, so it is so cute. The case has POWER button, RESET button and LED all functional, especially the front loading cartridge cover can be opened. There are Raspberry Pi network port and two USB interfaces, so it's much easy to use the case. The case has Micro SD card slot on the side, so it's convenient to put your SD card on the side. We have HDMI and Audio ports on the back of the case, so that will improve the experience when you use the HDMI and Audio put-out cables. Inside the case, there is a place for fan, which can increase the time of working.
The tiny case can compatible Raspberry Pi 3 model B, Raspberry Pi 2 model B and Raspberry Pi 1 model B+, so that you can use it like a NES console.
Features
It's easy to install Raspberry Pi inside, just need simple wiring.
The case is portable, so you can carry it with you.
You can put ventilation fan inside to increase the time of working.
Provide you a enhance experience of HDMI and Audio output.
Specifications
Color: white
weight: 228g
Dimension: 119.50mm (L) X 93.50mm (W) X 45.10mm (H).
The space of installing the fan: 30mm x 30mm x 10mm.
The type of interface: USB.
Package list
Raspberry Pi Case x 1
USB power cable x 1
DIY power cable x1
Internet cable x 1
Fan power cord x 1
USB cable x 1
Adaptable PCB x 4
Screw driver x 1
Wiki & External links
Features
It's easy to install Raspberry Pi inside, just need simple wiring.
The case is portable, so you can carry it with you.
You can put ventilation fan inside to increase the time of working.
Provide you a enhance experience of HDMI and Audio output.
http://retroflag.com/
Specifications
Color: white
weight: 228g
Dimension: 119.50mm (L) X 93.50mm (W) X 45.10mm (H).
The space of installing the fan: 30mm x 30mm x 10mm.
The type of interface: USB.
http://retroflag.com/
Wiki & External links
EmulationStation
3do
Amiga
Amstrad CPC
Apple II
Atari 2600
Atari 5200, 8 bit
Atari 7800
Atari Jaguar
Atari Lynx
Atari ST, STE, TT, Falcon
Colecovision
Color Computer
Commodore 64
Dragon 32
Dreamcast
Game Boy Advance
GameCube
Game Gear
Game Boy
Game Boy Color
Genesis/Megadrive
Intellivision
Macintosh
MAME
Master System
MSX
Neo Geo
Neo Geo Pocket
Neo Geo Pocket Color
Nintendo 64
Nintendo DS
Nintendo Entertainment System
Oric
PC
PC Engine/TurboGrafx-16
PlayStation 1
PlayStation 2
PSP
SAM Coupé
Sega 32X
Sega CD
Sega SG-1000
Super Nintendo Entertainment System
TI-99/4A
TRS-80
Vectrex
Videopac/Odyssey 2
Virtual Boy
Wii
Wonderswan
Wonderswan Color
ZX Spectrum
€3.57 with tax included
€7.14
Regular price
-50% off
Price
2.98 € tax excluded
Customers who bought this product also bought:
€4.76 with tax included
Price
3.97 € tax excluded
€3.57 with tax included
€7.14
Regular price
-50% off
Price
2.98 € tax excluded
€1.98 with tax included
Price
1.65 € tax excluded
16 other products in the same category:
€106.80 with tax included
Price
89.00 € tax excluded
€17.88 with tax included
Price
14.90 € tax excluded
€17.04 with tax included
Price
14.20 € tax excluded
€53.64 with tax included
Price
44.70 € tax excluded
€134.40 with tax included
Price
112.00 € tax excluded
€41.88 with tax included
Price
34.90 € tax excluded
€406.80 with tax included
Price
339.00 € tax excluded
€81.00 with tax included
Price
67.50 € tax excluded
€58.80 with tax included
Price
49.00 € tax excluded
€43.08 with tax included
Price
35.90 € tax excluded
€53.04 with tax included
Price
44.20 € tax excluded
€15.48 with tax included
Price
12.90 € tax excluded
€26.04 with tax included
Price
21.70 € tax excluded