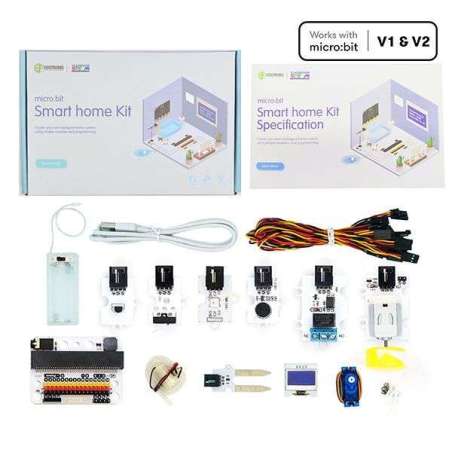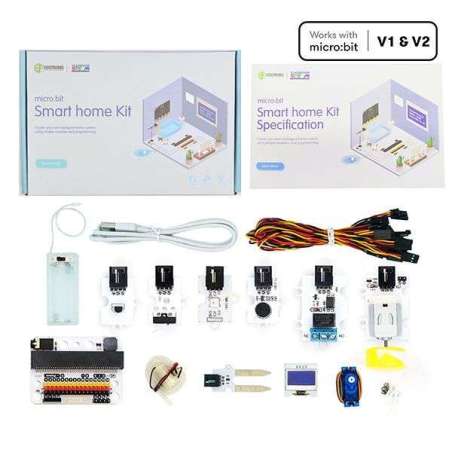  
ELECFREAKS micro:bit Smart Home Kit (without micro:bit board)EF08197
Reference: EF-08197 (V1&V2)
Tax included
45.60 € tax excluded
ELECFREAKS micro:bit Smart Home Kit (without micro:bit board)EF08197
Secure shopping
Quick delivery
Help with buying
ELECFREAKS micro:bit Smart Home Kit (without micro:bit board)EF08197
Slovenské návody k produktom- LINK-

IoT prakticky - Micro:bit Smart home kit na projekty simulujúce inteligentný dom (pcrevue.sk)
Smart home Kit is a product about smart home project base on micro:bit
 which is developed by ELECFREAK. We selected executed components commonly used at home as TMP36 temperature sensor, sound sensor, crash sensor, servo, motor. You can build scene like windowsill, wardrobe and fish tank, create yourself smart sweet home and programming to intelligently driving them using micro:bit. Smart home is what makes life more practical and playing with it is what makes life more interesting.
micro:bit Smart Home Kit: Simulation Scene, We can create a cozy "home" through the combination of various sensors.
Automatically detect noise level, the window will be closed when the noise threshold.
Water Level Detector
Water lever maybe overs security line because heavy rain or flood and lead to breaching of dyke. Water level warning system can solve this problem.
Smart fan
Automatically detect temperature. The fan will automatically drive when the temperature overs threshold and it will shows current temperature.
micro:bit Smart Home Kit: Sensor:bit breakout board
Sensor:bit is a breakout board based on micro:bit
Size:57x42mm
Features:
1.Extend most IO ports by GVS terminal. 2.Independently lead out IIC interface. Enable to plug in IIC components like OLED, BME280, etc.. 3.Integrated a buzzer and an audio jack. 4.Support building blocks interface. 5.Mark out each IO port with silk printing.
micro:bit Smart Home Kit: Exquisite Sensor (Not Include micro:bit and Battery)
micro:bit Smart Home Kit: Exquisite Sensor (Not Include micro:bit and Battery)
Components
| Module | Quantity | Remarks |
| --- | --- | --- |
| micro:bit | 1 | Option |
| 3V sensor:bit | 1 | - |
| OLED Screen | 1 | - |
| Crash E-Blocks | 1 | - |
| TMP36 temperature sensor E-Blocks | 1 | - |
| Rainbow LED E-Blocks | 1 | - |
| Simulation noise sensor E-Blocks | 1 | - |
| Light sensor E-Blocks | 1 | - |
| Soil moisture sensor E-Blocks | 1 | - |
| Relay E-Blocks | 1 | - |
| DC motor E-Blocks | 1 | - |
| 180° servo E-Blocks | 1 | - |
| Submersible pump E-Blocks | 1 | - |
| Screw driver | 1 | - |
| USB Cable | 1 | - |
| Crystal Battery Box | 1 | - |
| Smart home kit manual book | 1 | - |
Packing List
| Module | Quantity |
| --- | --- |
| 3V sensor:bit | 1 |
| OLED Screen | 1 |
| Crash E-Blocks | 1 |
| TMP36 temperature sensor E-Blocks | 1 |
| Rainbow LED E-Blocks | 1 |
| Simulation noise sensor E-Blocks | 1 |
| Light sensor E-Blocks | 1 |
| Soil moisture sensor E-Blocks | 1 |
| Relay E-Blocks | 1 |
| DC motor E-Blocks | 1 |
| 180° servo E-Blocks | 1 |
| Submersible pump E-Blocks | 1 |
| Screw driver | 1 |
| USB Cable | 1 |
| Crystal Battery Box | 1 |
| Smart home kit manual book | 1 |
Documents
---
Linky (SK) :
related products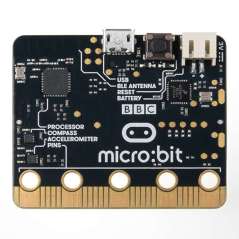 €14.85
tax included
14.85 € tax excluded
Price
micro:bit BBC  Board Only (MB80-US)  JavaScript, Python, Block Editor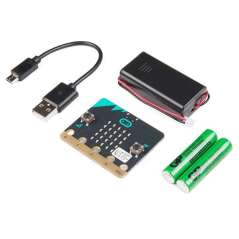 €14.89
tax included
14.89 € tax excluded
Price
micro:bit Go Bundle BBC (MB158-US)  complete set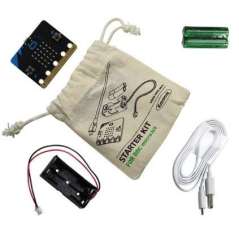 €14.89
tax included
14.89 € tax excluded
Price
BBC micro:bit Starter Kit (Kitronik) micro:bit+USB Cable 100cm+Battery Holder+2xAAA
16 other products in the same category: