
RLX COMPONENTS s.r.o. , Electronic Components Distributor.

RLX COMPONENTS s.r.o. , Electronic Components Distributor.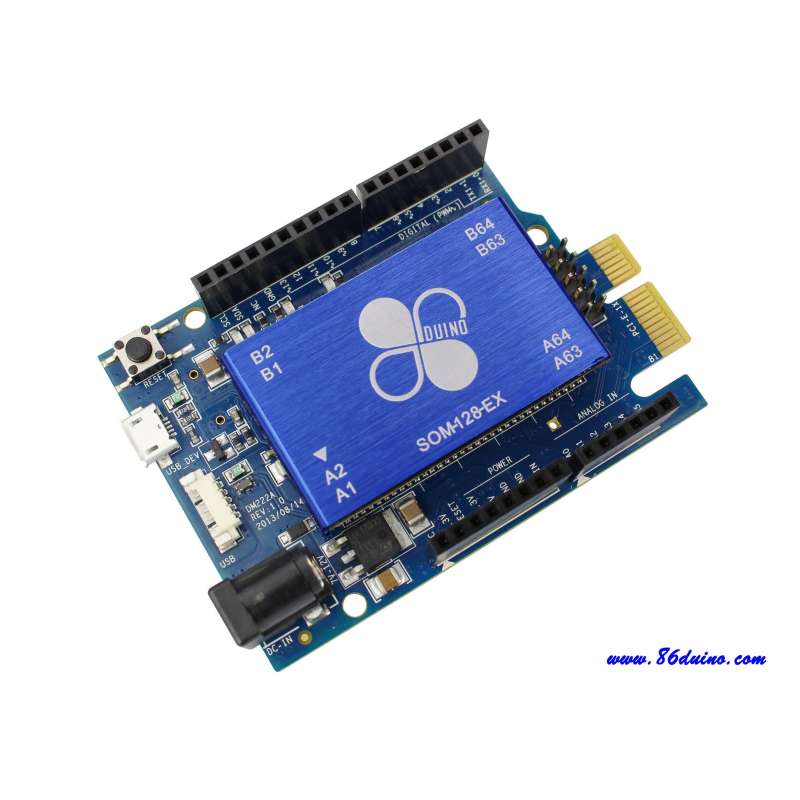 
86Duino ZERO - Vortex86EX 300MHz 32bit x86,128MB DDR3,LAN,USB,uSD
Vortex86EX Processor
300MHz 32-bit x86

128MB DDR3
LAN
USB 2.0
Micro-SD
● Open-Source Hardware
● Support DOS, Windows, Linux
● Arduino-Compatible IDE
● Arduino "Leonardo" form factor
86Duino is an open-source embedded platform based on Vortex86EX SoC, easy-to-use hardware and software integrated. This Arduino-compatible board can support many x86 O/S as well as those running on the original Arduino base system. The 86Duino is a high performance and fully static 32-bit x86 processor board compatible with Windows OS, Linux and most popular 32-bit RTOS. It integrates PCIE bus, DDR3, ROM controller, xISA, I2C, SPI, IPC (Internal Peripheral Controllers with DMA and interrupt timer/counter included), Fast Ethernet, FIFO UART, USB2.0 and SD/SATA controller within a single package to form a system-on-a-chip (SOC).  86Duino provides an ideal solution for the Arduino and embedded system with desired performance.
| | |
| --- | --- |
| Processor | Vortex86EX |
| Clock Speed | 300 MHz |
| Memory | 128MB DDR3 |
| Flash Memory | 8MB |
| Digital I/O Pins | 14 (of which 7 provide 32bit PWM output) |
| Analog Input Pins | 6 (11bit) |
| Communication | I2C, SPI, UART, LAN |
| Operating Voltage | 5V |
| Input Voltage (recommended) | 7-12V |
| DC Current per I/O Pin | 16 mA |
| DC Current for 3.3V Pin | 400 mA |
86Duino ZERO Specifications:
Processor – DM&P Vortex86EX 32-bit x86 processor @ 300MHz
System Memory – 128MB DDR3
Storage – 8MB SPI flash, and microSD card slot
Connectivity – 10/100M Ethernet (at the back of the board, not RJ45)
USB – USB host connector, micro USB port for development
Arduino Leonardo compatible headers
Misc – Reset button, PCIE bus
Power Supply – DC-IN 7 to 12V, or via microUSB port.
The board is comprised of a daughter board (DM-222) and a System-on-Module (SoM) either called DM-205 and or Vortex86EX SOM-128-EX which the following specs (some of which are not accessible in 86Duino Zero):
Processor – Vortex86EX @ 300MHz
System Memory – On-board 128MB DDR
Storage – On-board 8MB SPI Flash
Ethernet MAC + PHY
SATA Interface
PCI-E Control Interface and Target interface
8x ADC Channel
USB 2.0 Port
DMA Controller
Interrupt Controller
MTBF Counter
xISA Bus Interface
10x COM Ports
80 Pin selectable multi I/O

COM with TX/RX only
RS485 Auto Direction
SPI 1 or 2
Parallel Port
SD/eMMC
I2C, CAN, PS/2
Ethernet LED
Clock Out WatchDog
HD Audio
MCM (Motin Control Module)
The company provides support for DOS, Linux, Windows Compact 7.0, QNX and VxWorkx for their Vortex86EX processor. A custom Arduino IDE, called 86Duino IDE, is available for Windows and Linux. Schematics (PDF and Allegro), BoM, and Gerber files are available for the daughter board, and the SoM's schematics (PDF) are also provided. The company claims this is an open hardware board, but if that's all they provide, they're not fully compliant. Nevertheless, hardware files, tools, and application samples are available via github.
The company also have two other products featuring Vortex86EX SOM-128-EX:
86Duino One – Similar to 86Duino ZERO for with more I/O including 11 PWM outputs to control servos. It also supports 6 to 24 V input, and comes with with extra Line-out and  Microphone ports. The PCIe connector is moved at the back of the board (Mini PCIe connector). Finally there's a CR2032 battery for the RTC in the SoM.
86Duino EduCake – This product is also Arduino compatible for software, but not for the header. It features a daughter board and a breadboard connected with the SoM, all placed into an enclosure. External ports include 2x USB ports, an SD card slot, headphones and microphone jacks, an Ethernet port, a DB9 COM port, and a micro USB port for power and development. The breadboard is accessible via the top of the enclosure as shown in the picture below.
Customers who bought this product also bought:
€18.24 with tax included
€22.80
Regular price
-20% off
Price
15.20 € tax excluded
€3.59 with tax included
Price
2.99 € tax excluded
€11.40 with tax included
Price
9.50 € tax excluded