
RLX COMPONENTS s.r.o. , Electronic Components Distributor.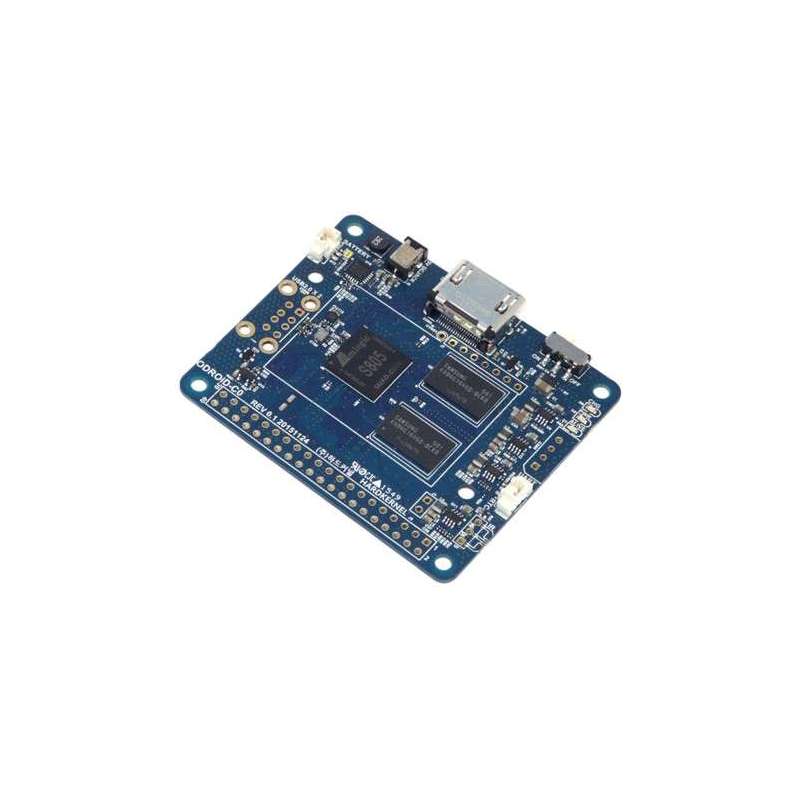 
ODROID-C0 (Hardkernel) 1.5Ghz Quad Core, Mali450, 1Gb DDR3 (ODROIDC0) G145326484280
The ODROID-C0 is a computer for those who wish to make a more flexible and portable applications. It is a minimized hardware version of the ODROID-C1+. Battery power circuit is fully integrated. Just attach a 3.7V Li+ battery and make it mobile. It is highly suitable for IoT projects, wearables, and other applications that require a lightweight device. 

All the ODROID-C1/C1+ OS images are fully compatible with the ODROID-C0. Some of the modern operating systems that run on the ODROID-C0 are Ubuntu, Android, Arch Linux, Debian, and OpenELEC, with thousands of free open-source software packages available. There are also plenty of custom OS available for using the ODROID-C0  as a multimedia center, Kodi, gaming station, headless server and much more at our ODROID community. 
* Amlogic ARM® Cortex®-A5(ARMv7) 1.5Ghz quad core CPUs 
* Mali™-450 MP2 GPU (OpenGL ES 2.0/1.1 enabled for Linux and Android)
* 1Gbyte DDR3 SDRAM
* eMMC4.5 HS200 Flash Storage slot / UHS-1 SDR50 MicroSD Card slot
* 40pin + 7pin GPIOs (unpopulated)
* USB 2.0 Host x 2 (unpopulated)
* Infrared(IR) Receiver (unpopulated)
* Li+ rechargeable battery charger for wearable and robots application 
* Battery voltage level is accessible via ADC in the SoC.
* DC/DC step-down converters for higher power efficiency 
* DC/DC step-up converter for 5Volt rails (USB host and HDMI) from a Li-Polymer battery
* DIY friendly C0 Connector Pack is available for handy prototyping
The key features and improvements over the original ODROID-C1+
OS Image files and BSP source code are available in our WiKi : http://odroid.com/dokuwiki/doku.php?id=en:odroid-c1

Full User Manual : http://goo.gl/iWGYcz
* An additional MicroSD card or an eMMC module is required to install the OS. We recommend the eMMC module as it has much higher performance than standard MicroSD cards.
The ODROID-C0 is a low cost and light weight variant to the original ODROID-C1+ model.  The PCB size is reduced about 24% and the weight is reduced to 16g from 40g.

- Adding a Li-polymer battery management IC.
- Remove the Gbit Ethernet connectivity.
- Reduce the number of USB host ports to two from four.
- Remove the USB-OTG port.
- Unpopulated a few connectors for various DIY projects.
SPECIFICATIONS
Processor
Amlogic S805 SoC ARM® Cortex®-A5 (ARMv7) 1.5GHz Quad Core ARMv7 architecture @28nm wafer
Memory
1Gbyte DDR3 RAM 792Mhz
3D Accelerator
ARM® Mali™-450 MP2 OpenGL ES 2.0 / 1.1
Flash Storage
eMMC Module Socket : eMMC module (option)
MicroSD Card Slot : 8~128GB MicroSD UHS-1 (option)
USB2.0 Host
High speed standard A type connector x 2 ports
Video Output
HDMI
Audio Output
HDMI, I2S
Real Time Clock
On-board RTC function with a coin-shaped backup battery connector
IO Expansion
40pin port (GPIO/UART/SPI/I2C/ADC)
7pin port (I2S)
WiFi
USB IEEE 802.11b/g/n 1T1R WLAN with Antenna (USB module) (option)
Power
5V 2A Power (option)
3.7V Li+ battery power
System Software
Ubuntu 14.04 + OpenGL ES on Kernel 3.10 LTS
Android 4.4.x on Kernel 3.10 LTS
Full source code is accessible via our Github.
PCB Size
58 x 56 x 11 mm approx. (Weight : 16 gram w/o heat sink,   30 gram with an optional heat sink)
Zákazníci, ktorí kúpili tento produkt, kúpili tiež:
82,80 € s DPH
Cena
69.00 € bez DPH
15,48 € s DPH
Cena
12.90 € bez DPH
Produkty v rovnakej kategórii: 16
89,88 € s DPH
Cena
74.90 € bez DPH
8,28 € s DPH
Cena
6.90 € bez DPH