
RLX COMPONENTS s.r.o. , Electronic Components Distributor.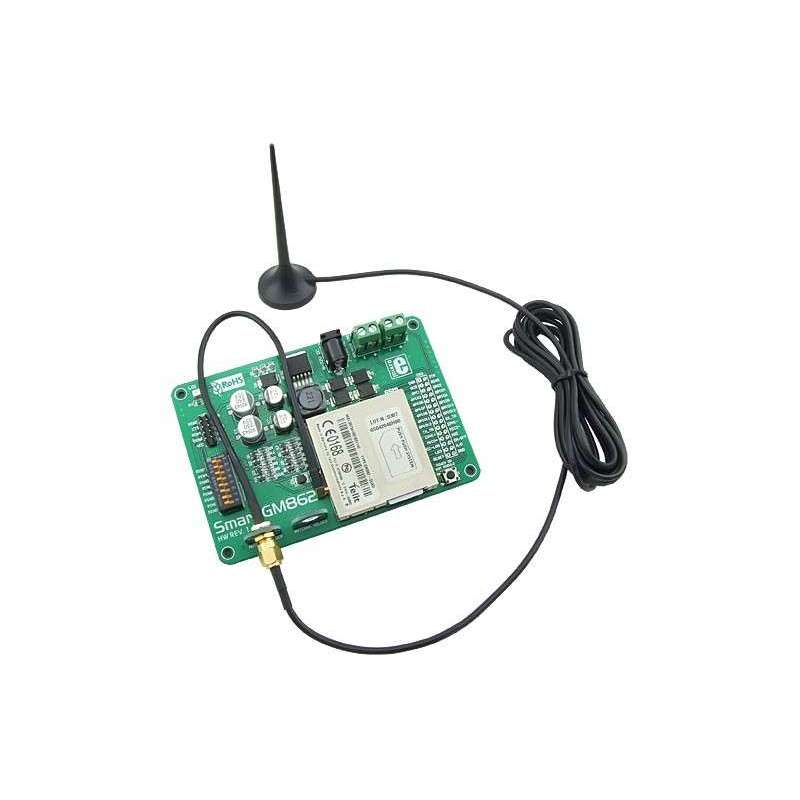 
** OBSOLETE ** SmartGM862 Board + MMCX-SMA Cable, GSM antenna  MIKROE-494
Note: Telit GM862 GSM/GPRS Module and SIM card are not included in the price!
The SmartGM862 Board is a full-featured development tool for Telit GM862 GSM/GPRS module. This board has everything you need to develop your own GSM-GPRS based device. It features voltage regulation, so that there is no need to connect additional power supply circuits. You just have to connect power supply (9-32V DC or 7-23 AC) to the board, place GSM/GPRS module, connect antenna and you are ready to start GSM-GPRS based device development. There is also a DIP switch used to configure connection lines for the desired microcontroller provided on the board. The board can be connected to external circuits or the microcontroller via IDC10 connnector and 2.54mm extension pins. Antenna is placed in Antenna Holder that is also available on the board.
The board supports GM862-GPS, GM862-QUAD-PY and GM862-QUAD Telit GSM/GPRS modules. These modules combine the access to digital communication services in GSM 850, 900, DCS 1800 and PCS1900 MHz networks. GM862 provides many features such as Voice, Circuit Switched Data transfer, Phonebook, SMS, four bands GSM capability, hot removal sensing on board SIM Reader, GPRS Class 10 and battery charger circuitry.
Zákazníci, ktorí kúpili tento produkt, kúpili tiež:
Produkty v rovnakej kategórii: 16
9,60 € s DPH
Cena
8.00 € bez DPH
13,14 € s DPH
Cena
10.95 € bez DPH