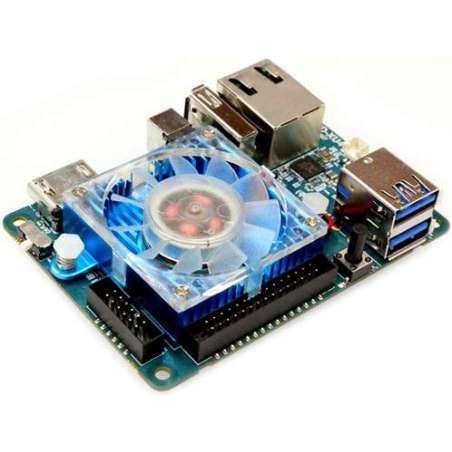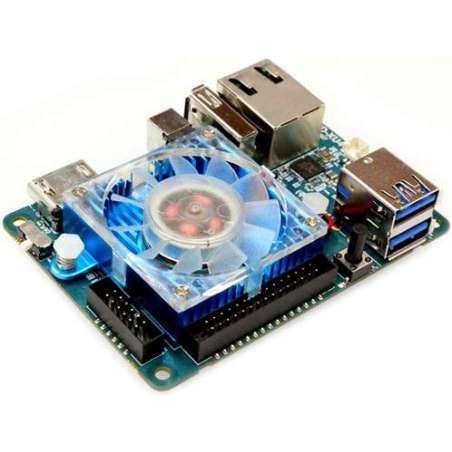  
ODROID-XU4 (Hardkernel) BEZ NAPAJACIEHO ADAPTERU, Exynos5422,Mali-T628 MP6,2Gbyte LPDDR3,eMMC5.0 HS400 Flash
Kód: HK-ODROID-XU4-B
ODROID-XU4 (Hardkernel) BEZ NAPAJACIEHO ADAPTERU, Exynos5422,Mali-T628 MP6,2Gbyte LPDDR3,eMMC5.0 HS400 Flash
Bezpečný nákup
Rýchle dodanie
Pomoc s nákupom
DROID-XU4 (Hardkernel) BEZ NAPAJACIEHO ADAPTERU, Exynos5422,Mali-T628 MP6,2Gbyte LPDDR3,eMMC5.0 HS400 Flash
BEZ NAPAJACIEHO ADAPTERU  5V4A PSU (5.5mm barrel connector)
is powered by ARM® big.LITTLE™ technology, the Heterogeneous Multi-Processing (HMP) solution. 
ODROID-XU4 is a new generation of computing device with more powerful, more energy-efficient hardware and a smaller form factor. 
Offering open source support, the board can run various flavors of Linux, including the latest Ubuntu 15.04 and Android 4.4 KitKat and 5.0 Lollipop.  By implementing the eMMC 5.0, USB 3.0 and Gigabit Ethernet interfaces, the ODROID-XU4 boasts amazing data transfer speeds, a feature that is increasingly required to support advanced processing power on ARM devices.  This allows users to truly experience an upgrade in computing, especially with faster booting, web browsing, networking, and 3D games.
The XU4 is fully software compatible with XU3 ! However, the XU4 is more compact, more affordable and more expandable.
Samsung Exynos5422 Cortex™-A15 2Ghz and Cortex™-A7 Octa core CPUs
Mali-T628 MP6(OpenGL ES 3.0/2.0/1.1 and OpenCL 1.1 Full profile)
2Gbyte LPDDR3 RAM PoP stacked
eMMC5.0 HS400 Flash Storage
2 x USB 3.0 Host, 1 x USB 2.0 Host
Gigabit Ethernet port
HDMI 1.4a for display
Size : 82 x 58 x 22 mm approx.(including cooling fan)
G143452239825
the cooling fan - blue anodised 
| | | | | |
| --- | --- | --- | --- | --- |
| Benchmarks (Index Score) | Raspberry Pi 2 | ODROID-C1 | ODROID-U3 | ODROID-XU4 |
| Dhrystone-2 | 1006.6 | 1262.8 | 2300.7 | 3994.1 |
| Double-Precision Whetstone (x3) | 1076.1 | 1318.8 | 2217.9 | 3074.7 |
| Nbench 2.2.3 Integer (x40) | 840.0 | 1208.0 | 1648.0 | 2451.1 |
| Nbench 2.2.3 FP (x100) | 809.0 | 1050.0 | 1860.0 | 2536.9 |
| SysBench CPU (1/T * 50000) | 669.3 | 902.2 | 1497.0 | 2891.8 |
| Memory BandWidth (mbw 100: MiB/s) | 557.1 | 1069.6 | 736.6 | 3243.8 |
SD/eMMC PERFORMANCE
The XU4 can boot from a MicroSD card or an eMMC module. An easy-access hardware switch is provided to select the boot interface (MicroSD/eMMC). The MicroSD interface supports the higher performance UHS-1 mode as well. 
File access of a 512MB file (read/write) on three different storage options shows distinct performance differences. 
The eMMC 5.0 storage is ~7x faster than the MicroSD Class-10 card in read tests. The MicroSD UHS-1 card is ~2x faster than the MicroSD Class-10 card in read tests. The MicroSD UHS-1 card provides a great low-cost option for many applications!
The XU4 has two standard-sized USB 3.0 SuperSpeed host ports. 
To measure the USB 3.0 performance, we connected an SSD via a USB-SATA bridge. We used the Toshiba SSD HDT312 128GB model for this test. USB 3.0 read access speed is ~5x faster than USB 2.0 on the XU4!
ETHERNET PERFORMANCE
The XU4 has an on-board Gigabit Ethernet controller. Our bi-directional streaming speed was measured at ~880Mbps. 
Thanks to the advanced technology of the RTL8135 controller, the XU4's Ethernet controller easily outperforms the connectivity solutions of prior generations.
NETWORK STORAGE PERFORMANCE
These days, network storage applications like NAS and cloud services are popular. We ran the famous OMV (Open Media Vault) OS on the XU4 to measure network storage performance. 
An SSD was connected to the XU4 via a USB 3.0 to SATA bridge. The Gigabit Ethernet port was connected to a Windows 8 PC via a simple switching hub. 
We sent a big 1.6GB file from the XU4 to the PC via a Samba connection. This resulted in a download speed of ~75-85MB/sec. 
The upload speed was measured at ~70MB/sec. Even though this performance is great, we are working on optimizing it even further. 
The XU4 is a great solution to make a DIY personal cloud storage server!
Heterogeneous Multi-Processing (HMP) solution 
The ODROID-XU4, equipped with four big cores (ARM® Cortex® -A15™ up to 2.0GHz) and four small cores (ARM® Cortex® -A7™ up to 1.4 GHz), provides improved processing capabilities while maintaining the most efficient power consumption available. With the big.LITTLE™ HMP solution, the Exynos-5422 can utilize a maximum of all eight cores to manage computationally intensive tasks. 
OpenGL ES 3.0 and OpenCL 1.1 for Linux and Android platforms 
The ARM® Mali™-T628 MP6 GPU offers key API support for OpenGL ES 1.1, OpenGL ES 2.0 and OpenGL ES 3.0, OpenCL 1.1 Full Profile and Google RenderScript. Mali-T628 is the GPU of choice for use in the next generation of market-leading devices, optimized to bring breathtaking graphical displays to consumer applications such as 3D graphics, visual computing, augmented reality, procedural texture generation and voice recognition. You can download the full featured OpenGL ES and OpenCL SDK from ARM Mali Developer website. It's free! This screen-shot shows OpenGL-ES applications and the Kodi media player with Ubuntu 15.04 Mate desktop on the HMP enabled Kernel 3.10 LTS.
INTRODUCTION VIDEOS
ODROID-XU4 Hardware Introduction
SPECIFICATIONS 
Processor

Samsung Exynos5422 ARM® Cortex™-A15 Quad 2.0GHz/Cortex™-A7 Quad 1.4GHz

Memory

2Gbyte LPDDR3 RAM PoP (750Mhz, 12GB/s memory bandwidth, 2x32bit bus)

3D Accelerator

Mali™-T628 MP6 OpenGL ES 3.0 / 2.0 / 1.1 and OpenCL 1.1 Full profile

Audio

HDMI Digital audio output. Optional SPDIF optical output (USB module)

USB3.0 Host

SuperSpeed USB standard A type connector x 2 port

USB2.0 Host

HighSpeed USB standard A type connector x 1 port

Display

HDMI 1.4a with a Type-A connector

Storage (Option)

eMMC module socket : eMMC 5.0 Flash Storage (up to 64GByte) 




MicroSD Card Slot (up to 64GByte)

Fast Ethernet LAN

10/100/1000Mbps Ethernet with RJ-45 Jack ( Auto-MDIX support)

WiFi (Option)

USB IEEE 802.11b/g/n 1T1R WLAN with Antenna (USB module)

HDD/SSD SATA interface (Optional)

SuperSpeed USB (USB 3.0) to Serial ATA3 adapter for 2.5"/3.5" HDD and SSD storage

System Software

Ubuntu 15.04 + OpenGL ES + OpenCL on Kernel LTS 3.10




Android 4.4.2 on Kernel LTS 3.10




Android 5.1 is available as a community driven OS development.




Full source code is accessible via our Github.

Size

82 x 58 x 22 mm approx. (weight: 60gram including cooling fan approx. 38gram without cooler)
2 ďalších produktov v rovnakej kategórii: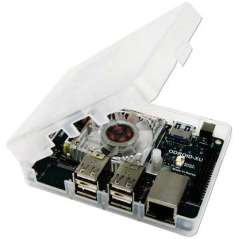 ODROID-XU Lite Exynos5 Octa Cortex™-A15 1.4GHz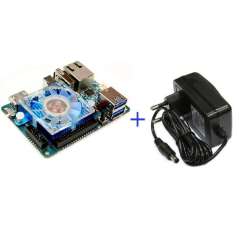 65,00 €
s DPH
65.00 € bez DPH
Cena
ODROID-XU4 +ADAPTER 5V/4A (Hardkernel) Exynos5422,Mali-T628 MP6,2Gbyte LPDDR3,eMMC5.0 HS400 Flash