
RLX COMPONENTS s.r.o. , Electronic Components Distributor.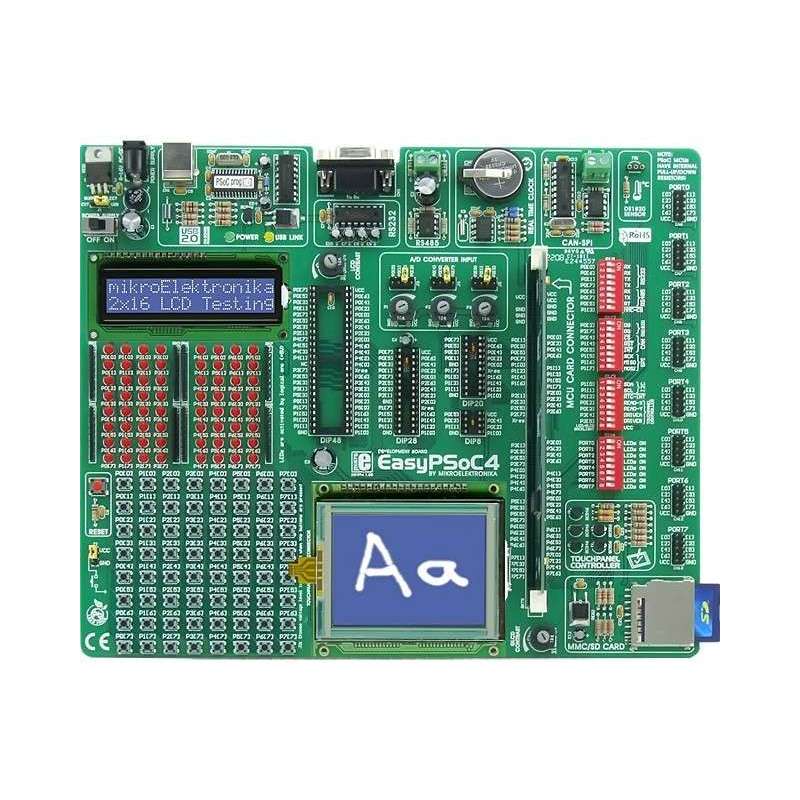 
Overview
EasyPSoC4 is a development system that supports a wide range of PSoC microcontrollers.
Very fast, on-board USB 2.0 programmer with a simplified driver installation.
MMC/SD cards enable you to add mass storage support to your prototype device.
EasyPSoC MCU Cards support PSoC microcontrollers in QFN, SOIC, SSOP and TQFP packages.
On-board stand-alone CAN (Control Area Network) controller MCP2510.
EasyPSoC4 includes an on-board Touch Screen controller with a Touch Panel connector.
Supported Microcontrollers
The EasyPSoC4 development system supports a wide range of PSoC microcontrollers. Newly released PSoC microcontrollers will be supported by a new version of PSoCprog software that is updated regularly. Here is a list of microcontrollers supported by the EasyPSoC4 development system:
PSoC Microcontroller Family
CY8C21123
CY8C21223
CY8C21234
CY8C21323
CY8C21334
CY8C21434
CY8C21534
CY8C21634
CY8C22113
CY8C22213
CY8C24123
CY8C24223
CY8C24423
CY8C24794
CY8C24894
CY8C24994
CY8C25122
CY8C26233
CY8C26443
CY8C26643
CY8C27143
CY8C27243
CY8C27443
CY8C27543
CY8C27643
CY8C28000
CY8C28243
CY8C28403
CY8C28413
CY8C28433
CY8C28445
CY8C28513
CY8C28533
CY8C28545
CY8C28623
CY8C28643
CY8C28645
CY8C29466
CY8C29566
CY8C29666
CY8C29866
Package Details
The EasyPSoC development system is packed in the protective box along with the relevant documentation and product CD. This box is very resistant to all kinds of damages and shocks. Note: Touch Screen, Pencil, Serial Cable, DS1820, LCD and GLCD are not included in the price. The package contains:
EasyPSoC4 Development System.
EasyPSoC MCU Card with PSoC CY8C27643.
USB cable.
CD with software, drivers and examples in C.
Printed documentation.
Produkty v rovnakej kategórii: 8
7,11 € s DPH
9,48 €
Základná cena
-25% off
Cena
5.92 € bez DPH
14,26 € s DPH
35,64 €
Základná cena
-60% off
Cena
11.88 € bez DPH