
RLX COMPONENTS s.r.o. , Electronic Components Distributor.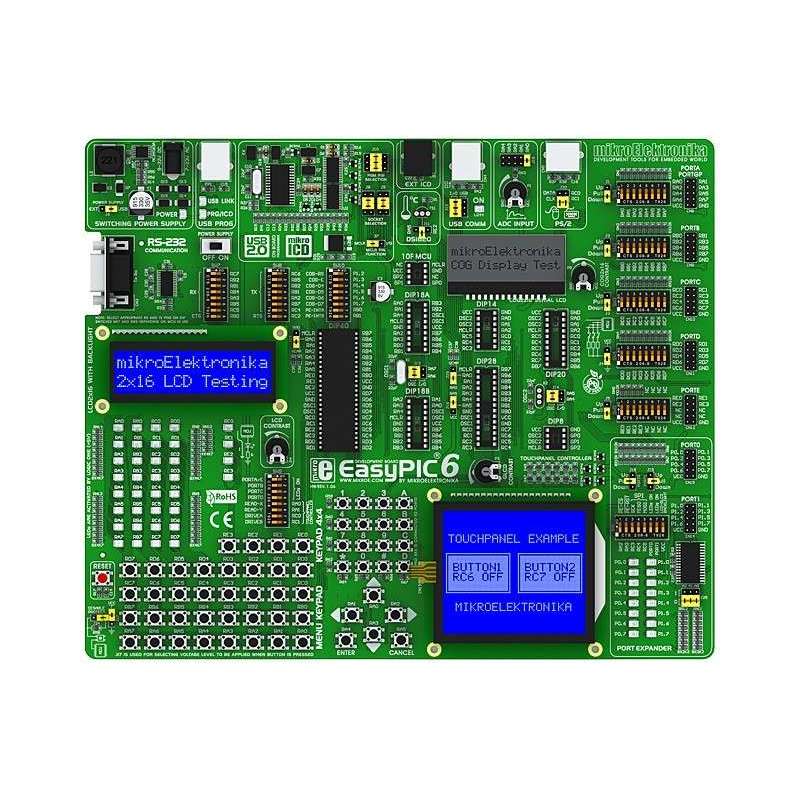 
Overview
EasyPIC6 is a development system that supports over 160 8-, 14-, 18-, 20-, 28- and 40-pin PIC MCUs.
Very fast, on-board USB 2.0 programmer with a simplified driver installation.
mikroICD is a hardware tool designed for testing and debugging programs on PIC microcontrollers.
EasyPIC6 allows PIC microcontrollers to be interfaced with a wide range of peripheral modules.
On-board 16-bit I/O port expander MCP23S17 that uses SPI communication.
EasyPIC6 includes an on-board Touch Screen controller with a Touch Panel connector.
Supported Microcontrollers
The EasyPIC6 development system supports a wide range of microcontrollers including over 160 PIC microcontrollers. Newly released PIC microcontrollers will be supported by a new version of PICFlash software that is updated regularly. Here is a list of all microcontrollers supported by the EasyPIC6 development system:
PIC10 and PIC12 Microcontrollers Family
PIC10F200
PIC10F202
PIC10F204
PIC10F206
PIC10F220
PIC10F222
PIC12F508
PIC12F509
PIC12F510
PIC12F519
PIC12F609
PIC12F615
PIC12F629
PIC12F635
PIC12F675
PIC12F683
PIC12HV609
PIC12HV615
PIC16 Microcontrollers Family
PIC16F505
PIC16F506
PIC16F526
PIC16F54
PIC16F57
PIC16F59
PIC16F610
PIC16F616
PIC16F627
PIC16F627A
PIC16F628
PIC16F628A
PIC16F630
PIC16F631
PIC16F636
PIC16F639
PIC16F648A
PIC16F676
PIC16F677
PIC16F684
PIC16F685
PIC16F687
PIC16F688
PIC16F689
PIC16F690
PIC16F716
PIC16F72
PIC16F722
PIC16F723
PIC16F724
PIC16F726
PIC16F727
PIC16F73
PIC16F737
PIC16F74
PIC16F747
PIC16F76
PIC16F767
PIC16F77
PIC16F777
PIC16F785
PIC16F818
PIC16F819
PIC16F83
PIC16F84
PIC16F84A
PIC16F87
PIC16F870
PIC16F871
PIC16F872
PIC16F873
PIC16F873A
PIC16F874
PIC16F874A
PIC16F876
PIC16F876A
PIC16F877
PIC16F877A
PIC16F88
PIC16F882
PIC16F883
PIC16F884
PIC16F886
PIC16F887
PIC16F913
PIC16F914
PIC16F916
PIC16F917
PIC16F946
PIC16HV610
PIC16HV616
PIC16HV785
PIC18 Microcontrollers Family
PIC18F1220
PIC18F1230
PIC18F1320
PIC18F1330
PIC18F2220
PIC18F2221
PIC18F2320
PIC18F2321
PIC18F2331
PIC18F2410
PIC18F242
PIC18F2420
PIC18F2423
PIC18F2431
PIC18F2439
PIC18F2450
PIC18F2455
PIC18F2458
PIC18F248
PIC18F2480
PIC18F2510
PIC18F2515
PIC18F252
PIC18F2520
PIC18F2523
PIC18F2525
PIC18F2539
PIC18F2550
PIC18F2553
PIC18F258
PIC18F2580
PIC18F2585
PIC18F2610
PIC18F2620
PIC18F2680
PIC18F2682
PIC18F2685
PIC18F4220
PIC18F4221
PIC18F4320
PIC18F4321
PIC18F4331
PIC18F4410
PIC18F442
PIC18F4420
PIC18F4423
PIC18F4431
PIC18F4439
PIC18F4450
PIC18F4455
PIC18F4458
PIC18F448
PIC18F4480
PIC18F4510
PIC18F4515
PIC18F452
PIC18F4520
PIC18F4523
PIC18F4525
PIC18F4539
PIC18F4550
PIC18F4553
PIC18F458
PIC18F4580
PIC18F4585
PIC18F4610
PIC18F4620
PIC18F4680
PIC18F4682
PIC18F4685
Package Details
The EasyPIC6 development system is packed in the protective box along with the relevant documentation and product CD. This box is very resistant to all kinds of damages and shocks. Note: Touch Screen, Pencil, DS1820, LCD, Serial Cable and GLCD are not included in the price. The package contains:
EasyPIC6 development system. USB cable. CD with software, drivers and examples in C, BASIC and Pascal. Printed documentation that includes: EasyPIC6 Manual, EasyPIC6 Schematic Diagram, PICFlash with mikroICD Manual, mikroICD Manual and Quick Guide for Installing USB Drivers.
Zákazníci, ktorí kúpili tento produkt, kúpili tiež:
Produkty v rovnakej kategórii: 16
11,61 € s DPH
15,48 €
Základná cena
-25% off
Cena
9.68 € bez DPH
22,98 € s DPH
Cena
19.15 € bez DPH